Have you dreamed of a game where you can win battles with your partners? Get elite weapons and upgrade? This game is already here..
In this article, I will talk about a mobile game called "Pixel Gun 3D".
It may seem to some that this game is kept due to hype (maybe he will be right), someone just likes mobile games. I will try to tell as much as possible about the very essence of the game. And so, let's go!
First of all, it is worth noting that the game has Russian roots. It was developed by Rilisoft, but for some reason it was bought out by Cubic Games. After that moment, changes in the game began. Because of this, you can see that the official game group on the VKontakte social network is still functioning, and Russian-speaking players are often found in the battles themselves.
First of all, you need to consider the main menu. At first, you can get confused in the buttons (there are really a lot of them!), But over time you start to get used to it.
If we look in the "Mail" section, we will see messages about updates from the developers.
Another button is "Craft". The main feature is that you can customize the appearance of your main menu (change walls, background, set day or night, and so on). And it's not just about beauty, but about the positive effects that the decor of the menu gives. For example, the power of gadgets may increase or you become faster.

Next comes the section called "Tournament". What is it for? For a certain number of days, you must collect a certain number of trophies (which can be earned by winning battles), and after the expiration of the term, you either remain in your league or move to the next. Participation in tournaments gives a large number of coins.
Another tab that we will need in this article is the Task Book. As you might have guessed, you can get a certain reward for completing tasks. Mostly diamonds and coins. The tasks are different, so it's hard to say if they are difficult or not. However, they can be a good help in development.
Arsenal will also be one of the main sections. There is no way to do without it. In this section, you can choose weapons, buy armor (mostly available from the clan), and also breed pets. If we talk a little more about pets, they are needed in battles not just for beauty, but for obtaining useful effects (or the pet itself will wet everyone :D). But, in case you're wondering, there is still one pet in the game that has no effects. His name is Kamushek. Just Pebbles. You also need to know that weapons, pets, armor and defense modules, as well as gadgets (which serve to simplify the game) can be improved. But such improvements are not the cheapest, so you need to try.
The other block is the Campaign mode.
It can be played both offline and online. The game is not just set up for the player to kill everyone, but for the player to learn the story of the creation of the Pixel Gun world. I won't spoil what the plot is in the campaign, but I will say that the bosses there are pretty strong. And so you need to get more or less strong weapons and good armor.
Finally, one of the most important sections ─ "To Battle!". In this section you will find many game modes in which different battles will take place. These include: team battle, survival, capture the flag, battle royale (much like Fortnite), mini-games and others. There are a huge number of cards, so you will not have time to get bored.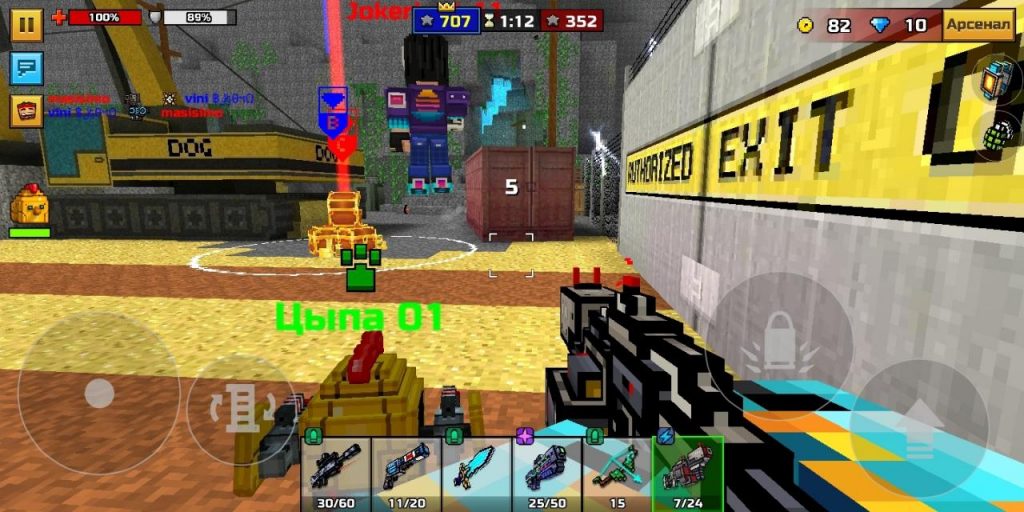 If we talk about the battles themselves, then the victory of you or the whole team depends on which mode you have chosen and what task is there, as well as on how well the task is performed. But basically, many games are related specifically to weapons, so one of the tasks is to defeat an opponent. Due to the fact that there are quite a lot of weapons in Pixel Gun (with each new season usually new weapons appear), there are a huge number of ways to destroy rivals. For example, you can scatter exploding bombs, or put turrets that will destroy rivals. All tactics and winnings depend only on you.
Now let's sum up for this article. Below are the pros and cons of the game.
Pros:
There is a plot of the development and creation of the world in which the game operates;
A wide variety of pets, weapons, armor, gadgets
The presence of small bonuses when opening chests in the main menu
There are many maps that are fun to play.
Updates are released frequently (first on android, and then on IOS)
Minuses:
Bugs that interfere with comfortable playing
There are no servers for different countries, that is, there is one server in the game, on which there are players from Russia and other countries, which introduces misunderstandings between the players.
Due to the variety of weapons, there is a chance for a quick death from an opponent
In conclusion, I would like to say that this is a rather interesting game, despite the fact that the developers in taken from "MineCraft", and the modes for "Pixel Gun" from other games (as mentioned above from "Fortnite", as well as from "SCP Foundation" (Monster Hunt mode), "Among Us" (Traitor mode) )). It should also be noted that the graphics are for an amateur (I did not dare to mark them as minuses or pluses), so it's up to you to decide whether you will play or not. Thank you for reading this article to the end. I wish you health and all the best. See you in future articles!